Discover more from ingredient by Rachel Phipps
A professional recipe developer's deep dive into a different ingredient each month with exclusive recipes.
Over 1,000 subscribers
Here is everything we ate in Tuscany.
I don't think I can ever eat enough Pici with Wild Boar or late night gelato. Here are all the addresses we loved!
Last week found us flying out to Tuscany with a group of my oldest school friends for our friend's rural Italian wedding, and we thought as we'd made it all the way to Italy it would be a shame not to stick around for a few days and explore the beautiful art, architecture, and most importantly food Tuscany has to offer. Here is everything we ate, as well as a few hopefully helpful addresses if you're planning your own trip!
Just a heads up, there are a lot of photos and text in this one so your email app will probably cut it off - to view the full post, do open it up by clicking the above header in your browser, or by opening it in the Substack App!
---
Empoli
Our first stop on our Tuscan tour - the town of Empoli - was chosen solely because it was the nearest place to the bed and breakfast where all the friends of the bride and groom were staying. Lunch was chosen based solely on what looked good on a walk around the town whilst we waited for our friend's train to arrive from Pisa.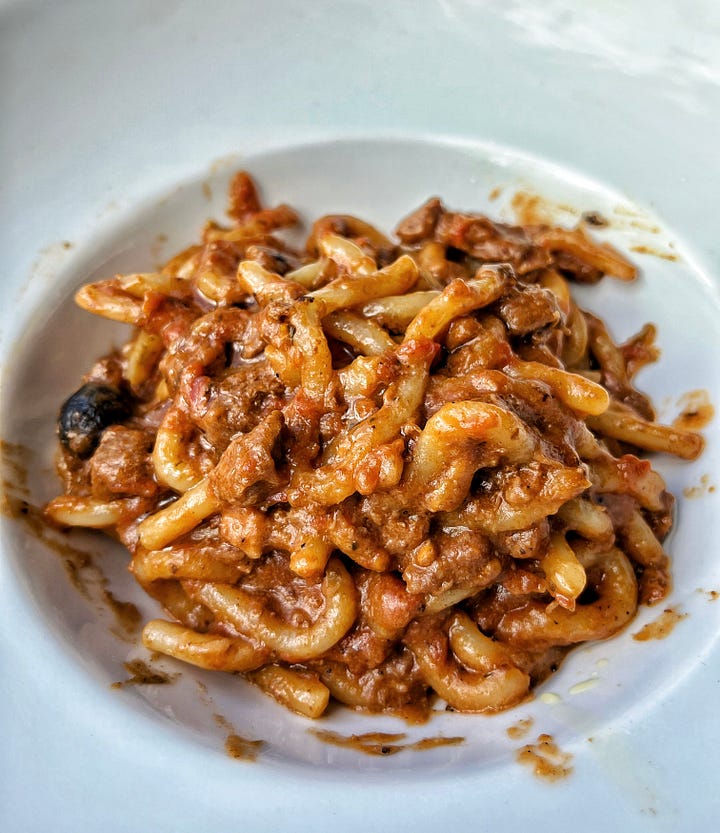 We ended up clearing our sleep-deprived fug from our 2am start to get to the airport at Osteria Ì Canto Ghibellino on the historic square were we drunk local wine and had both the first - and I think best - version of the highlight dish of my trip, the local wild boar ragu with hand-rolled pici pasta. Rich, toothsome and a very generous portion, it was a plateful that was very healing after our early start, a loud flight, a 1 hour 30 minute wait for the hire car, a fight with said car's Apple Car Play to get the SatNav working, and very difficult drive (I can cope in France if I stick to the rural roads, but I don't think you could pay me to ever drive on an Italian motorway!) culminating in a long hunt for a parking space with a machine which took credit cards as we'd not broken any euro notes yet for coins.
It was the perfect introduction to simple Italian pasta which put even the dishes I've had at fancy Italian pasta places in London to shame. Except for the black olives in the dish; I know they're common but we were not a fan of the variety, so thank god no other versions of our now beloved boar ragu we had (including another with pappardelle at the welcome dinner that very night) featured them.
Super full and in need of a nap I said I just wanted to go and look at the gelato on display at Gindo - the only gelato shop open mid-Saturday afternoon - but of course I came out with my favourite flavour, pistachio. It turned out to be the best gelato I had all trip, so much better than the very best imported Italian gelato I buy here.1 Smooth, nutty, rich, and utterly indulgent without being too much.
Empoli was the least entertaining town we visited in Tuscany, but I think both based on quality and circumstance, it was the best food we had all trip.
San Miniato
We visited San Miniato for lunch before we all needed to go and get dressed for the evenings festivities on a whim. It was a spontaneous trip, but spontaneous in a way that we were travelling with people who have known me for 20 years, so naturally knew I'd have researched all of the surrounding area on the off chance and identified a few supposedly good places to eat in each. And who were also happy to pile into the hire cars and brave the narrow winding Italian roads simply to follow my stomach.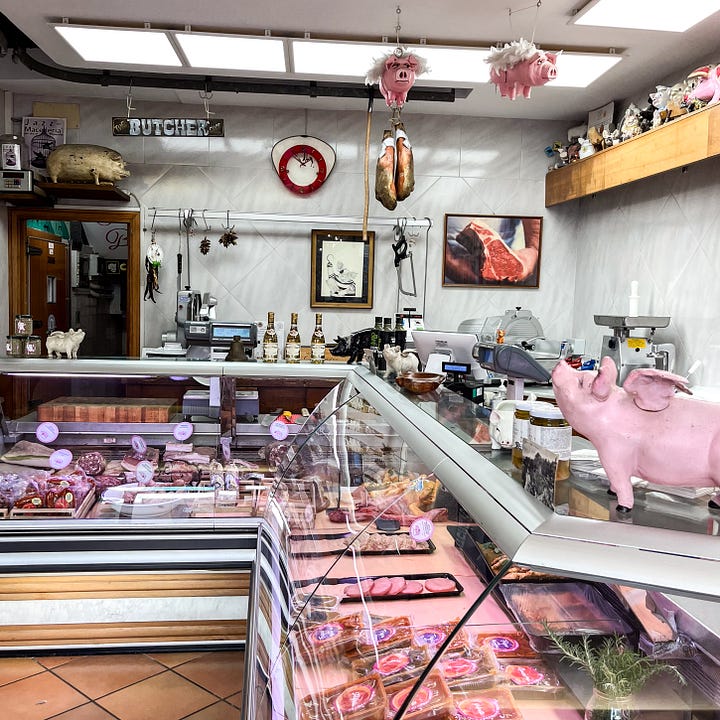 I've got a few places I start with food based trip research, but obviously trusted sources are a big part of that. Which is how a 5 year old article the brilliant
wrote for Conde Nast Traveller led us to both her husband's birthplace and the fourth generation butchers shop there we had lunch:
Macelleria Sergio Falaschi
.
You've already seen the stunning view you'll be treated to if you lunch out on the terrace, but as a big group of 7 + one curious 8 month year old in her travel buggy we got to lunch somewhere equally as cool: around the butchers block in the back room, below a picture of sausages being made on said block, as well as other pork-based memorabilia including a signed apron from one of the butchers in Borough Market.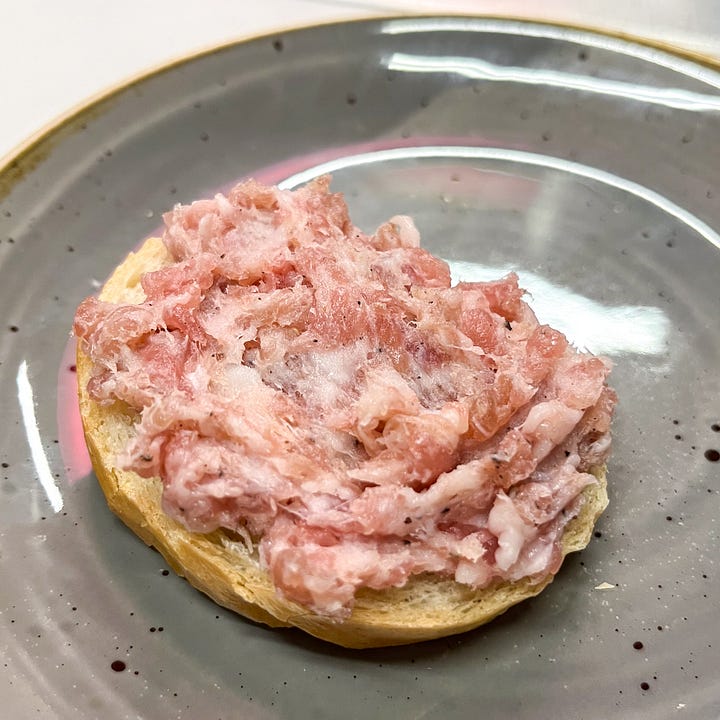 We kicked things off with their excellent house made salamis and some excellent crostini: a warm whipped liver puree, slow cooked ragu, and a couple of different preparations of spuma di gota made to the original 1920's recipe: a delicacy of the town, a creamy, raw-sausage like paste made of pork jowl fat from heirloom Cinta Senese pigs. Unusual, delicious, and worth taking the plunge for because whilst it is aged, it looks and tastes like you're eating raw meat.
'The mixture is left to rest in the fridge for about a week, after which it's put to mature in a cellar for a period of at least five months. After this phase, it its minced with a knife then turned into a sort of paste with a stone or marble mortar; further seasoning is then added. The production happens between September and May.'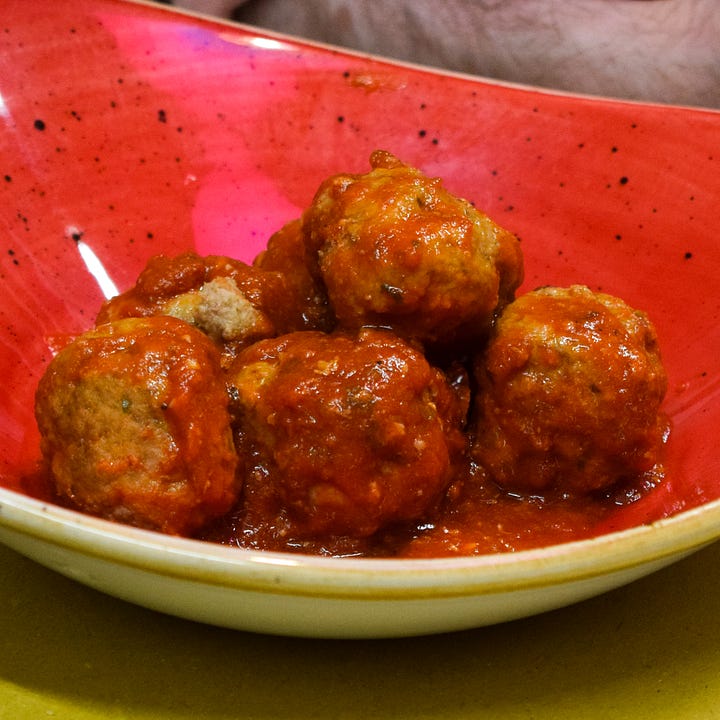 What came next was both simple, and excellent.
In hindsight I should have had the meatballs: perfectly flavoured and with a melting texture I'm not even sure where to start on replicating. The potato ravioli served with a meat ragu was excellent too, and whilst it was a touch too cheesy for me, the bite of the daily special lasagna I tried was spectacular too: beautiful flavours between impossibly numerous and light layers of tender pasta.
I would like to state now that I have zero regrets about ordering the beef tartare. Simple mince, beautifully seasoned and served with rich, local extra virgin olive oil. Exactly what I wanted to eat, but I also don't understand how that was a portion for one person? It's the reason I said I should have had the meatballs: they were perfect and I would have wiped the plate clean, rather than being defeated by my raw meat mountain just over halfway thorough!
Everything was so simple, and such a celebration of good, local, top quality ingredients. It's a meal we'll all remember for a while, and thank you Emiko for writing about it as I'm so pleased I was able to take everyone for an experience that for me whilst not regular was not uncommon in my line of work, but to everyone else was something totally different and a little bit special!
You don't go to a butchers shop for the dessert, so if you fancy something sweet make use of the gelato shop next door, Camilla Gelateria Yogurteria. Okay their pistachio was not as good as the one I'd had the day before, but there was still nothing better than taking in the view before we walked back down to where we'd left the cars with a healthy serving of both it and Fior di Latte (milk gelato) which is my go-to second scoop if I want a bit more than just one but the other flavour I've chosen is quite rich.
Siena
The day after the wedding, our only plan was to head into the countryside and visit
at her cookery school for a future instalment of
Kitchen Cupboards
- more on that soon - and she suggested we spend the afternoon in the nearby city of Siena, filling the notes app on my phone with her recommendations.
But, before we head into Siena and to lunch (I'm going to save the history and the views for a proper big photo dump on my blog where I usually post slightly more structured travel guides) I need to tell you about the pastries Giulia greeted us in her studio with.
Forno Pellegrino are a sourdough bakery you can find in Colle di Val D'Elsa who put their starters in not just their breads, but in their pizza and also their laminated pastries. I zeroed in on the berry crostata in the box still smarting after a really disappointedly soft and cloying one on the breakfast buffet the day before. The jam was sweet but just zippy enough not to be overly sweet and the pastry was crumbly and soft whilst still having a good flavour and structure. I wish these were more common here in England.
I don't like croissants usually, but on our trip I realised I do like them stuffed with cream: I nabbed a bite of J's vanilla pastry cream croissant and I think he actually made the better choice.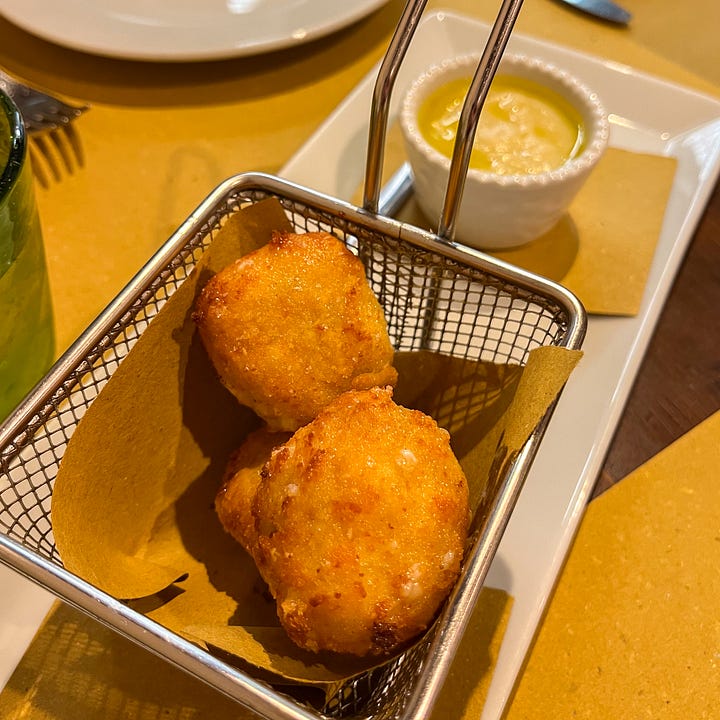 Arriving in Siena proper, we made a beeline for Osteria La Sosta di Violante and promptly left our name for a late lunch table as we went to explore some of the frankly stunning buildings in this beautiful, less-touristed city.
When it was finally our turn at the super busy restaurant (so many people popped in to book a table for dinner as we ate) we shared a starter of pecorino fritters - hot, molten and salty, with a lovely pear sauce on the side. Addictive, rich, but trust me, sharing a portion of three between two was enough even though they're a must-order!
Sticking to things we'd already enjoyed eating on the trip, J had another dish of lasagna (excellent apparently but not as fantastic as the one from San Minato) and I had yet another plate of Pici with Wild Boar Ragu. This one was still toothsome, delicious and absolutely the right thing to have ordered, and I liked how it was different in character to the other two versions I'd had, with larger slow cooked boar chunks in the sauce.
By the way, if you're wondering about the other addresses Giulia typed into my phone which we did not have a chance to hit up Osteria Da Trombicche is apparently also good for Tuscan classics done in a slightly elevated way, Consorzio Agrario is where you want to head to buy local products to take back home (I was annoyed packing for the trip that the amount of outfits and shoes we needed for the wedding meant we had zero room to bring treats home!), Masgalano Gelateria is where we would have gone for gelato if we'd not had a photo finish back to the car at 6pm so not to get a parking ticket, and Fiorella is apparently the place to go for excellent coffee.
Pisa
After returning our hire cars and a couple of our friends to the airport, a few of us stayed on in Pisa to explore all the non-Leaning Tower historical bits, and of course to eat. Whilst we were waiting for the group who were not on the early morning airport run to arrive and check into our hotel, J and I sought breakfast.
Now, I'm not a sweet breakfast person. You saw my dedication to savoury breakfast pursuits in Mexico, but looking for a quick breakfast on the go in Italy when I don't drink coffee and don't eat pastries? I did not have high hopes.
But, even though I had to settle for juice over a hot drink, as I mentioned I discovered in Tuscany I do in fact enjoy a good croissant, but only if you've pumped it full of pastry cream. That is what J went for, but I'm also that person who has to be told not to eat the pistachio cream out of the jar with a spoon. So of course I demolished a pistachio cream filled croissant: flaky, but soft in the middle with a super generous amount of luxurious filling. An indulgent treat I question the suitability of as a breakfast item, but which I'll never say no to none the less.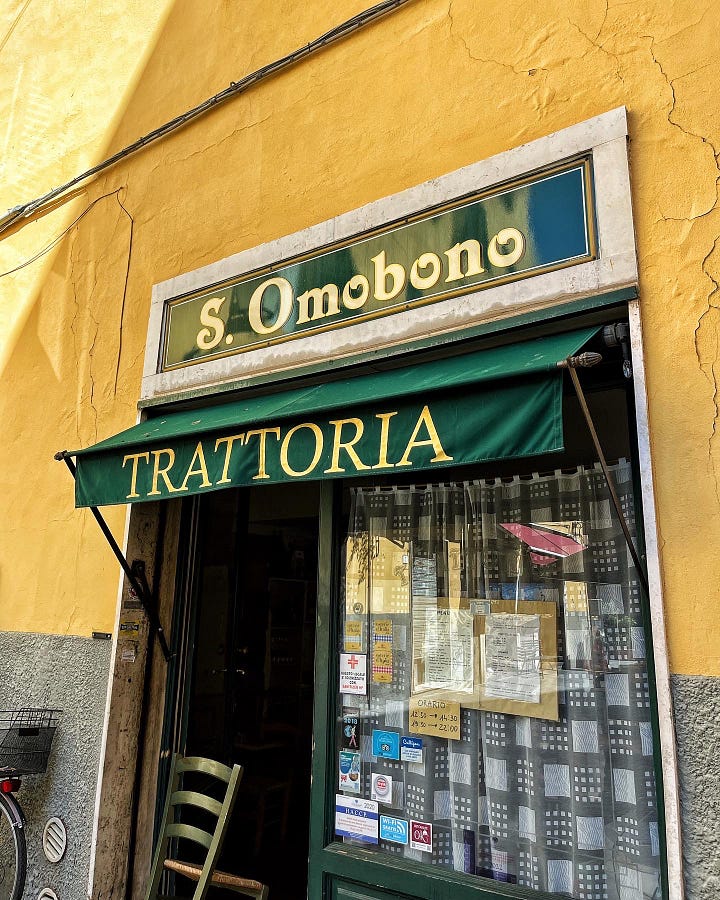 Lunch found us at Trattoria Sant'Omobono, confirming my theory if you choose a restaurant on the same square as the daily vegetable market you'll never have a bad meal.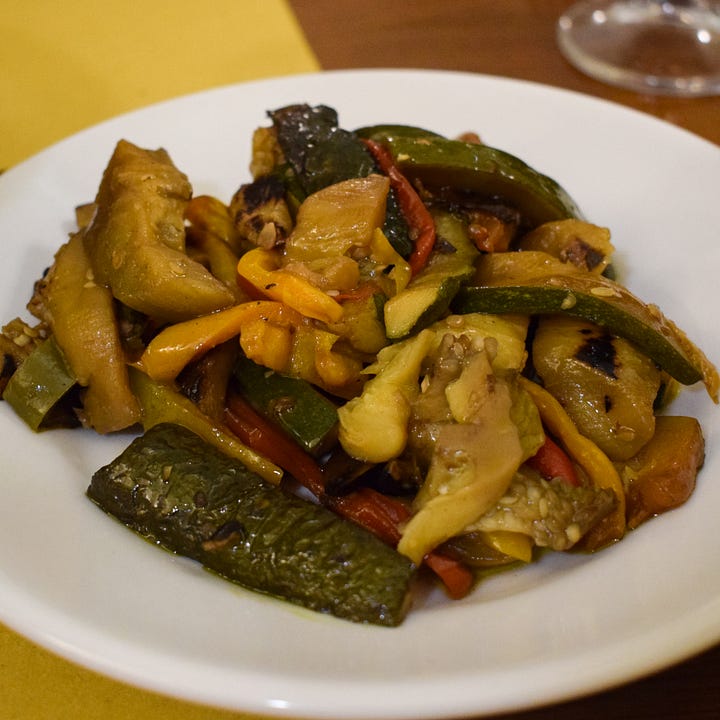 Top to bottom, left to right, we've got the medley of courgettes, peppers, and aubergines, simply slow cooked with lots of olive oil to perfection we shared alongside a big green salad as a surprisingly refreshing side dish, the ragu of octopus slow cooked in red wine (with the odd whole baby octopus thrown in for good measure) tossed with toothsome pasta and lots of parsley which was one of the highlights (rich, fishy but also with more in common with a slow cooked meat dish than a fish one) Kathryn and I shared, along with my highlight of the trattoria we also split: the mushroom lasagna. Rich and unctuous, it was unexpected in that if I'd ordered a mushroom lasagna anywhere else they would have tried to chop the mushrooms up small to imitate meat: here they were left in tender chunks, highlighting their different flavours creating a simple, perfect plateful which celebrated the arrival of autumn, even if it still felt like summer on the streets of Pisa.
The wild boar ragu - this time served with spaghetti - had a good flavour and was a preparation I'd have gone wild for in London, but it was the weakest of the trip. Go elsewhere on their menu for the real game-changers.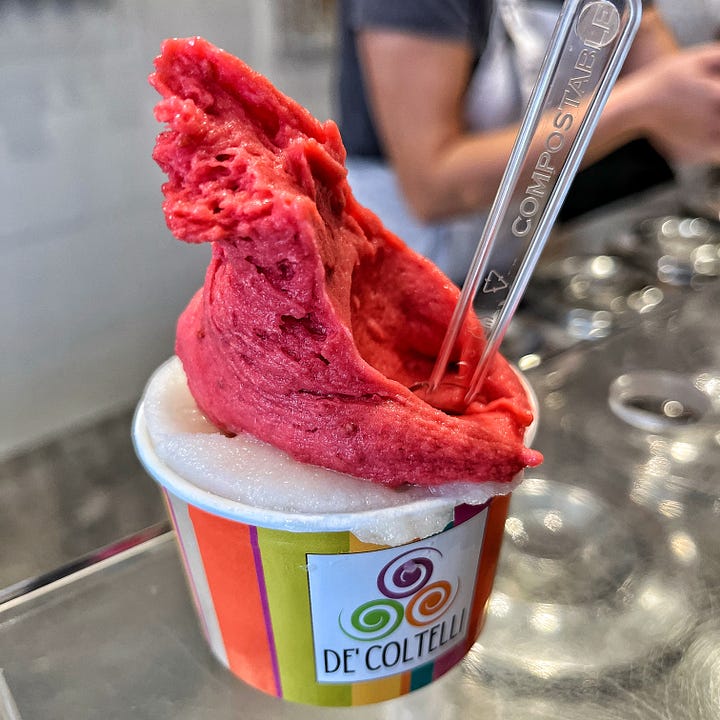 After a fair bit of history (again, I'll be doing a Pisa guide blog post in the coming weeks so I'll save those cultural snaps for that) we were all in need of a serious cooling off so headed off in search of another Giulia recommendation (seriously, thank you for all of these!): Gelateria De' Coltelli, a 'there is always a queue' gelato shop by the river which boasts unique pairings, organic fruit and several zero food mile flavours.
The tastes of dark chocolate and toasted almond with candied lemon peel I sampled from J's cone confirmed them as incredible, get them aa later in the day flavours, but I think the two of us who went for lemon and raspberry sorbets made the right call: incredibly fresh, bright and fruit forward the texture was sublime, perfect for cooling off as we walked back to the hotel for a well deserved nap.
Once things had cooled down a bit before we went in search of dinner, we took a wander and ended up having an apero outside a small hole-in-the-wall bar I can't find on Google maps (but which you can find next to Le Parisien Wine Bar where J and I went the next night for spritz before dinner!) - keeping it simple with beers and limoncello spritz we were brought plain crisps, little foccacia salami sandwiches and squares of pizza. None of it perfect, but all perfect for sitting on a square in Pisa with your friends and their sleeping baby on your last night together in Italy.
Dinner was a masterclass in how good ingredients, prepared simply will always carry a dish. We'd had a load of pasta, but no pizza yet and the best I could find that was both open, within walking distance of our hotel, was away from the main tourist drag around the tower and was actually open was Pizzeria Le Mura.
The crust was a bit overdone, a touch too crispy, but the sauce was perfect, the tomatoes fresh, the mozzarella creamy. It was a locals only joint where the staff had barely any English and we had even less Italian, but everyone was so friendly, yet more limoncello spritz were excellent, we loved the caprese salad we also ordered, and we got the feeling it was a place where you could not help but have a good time.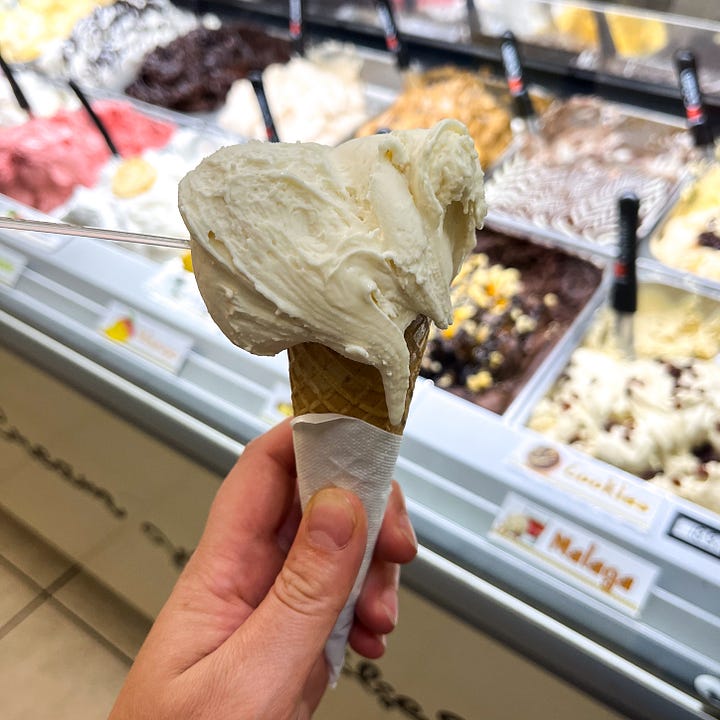 But our top tip for an evening in Pisa? Grab a gelato after dinner (we went to Le Bonta 'Toschi Marco next door to the pizzeria - I had the pear flavour which was incredible, one of the best I'd had all trip) and take a walk. Now is the time of day when you want to go and see the famous Leaning Tower. Beautifully lit up against an inky night sky, you can stroll around the complex with less than 5% of the afternoons visitors, and not a single person trying to take a picture of themselves holding it up.
Florence
This was my second visit to Florence, and with the sheer concentration of tourists I'm going to have to make a third attempt to actually make it into the Duomo! I'm going to admit that it was our least favourite part of our trip - which we actually cut short taking the train back to Pisa for dinner. I know there is so much to love in Florence, so much to see and so much to absorb, but there were just too many people. There were a lot of tourists in parts of Pisa, but a level of tourists having lived in London, and studied around the historic buildings of Canterbury and Cambridge respectively J and I could deal with, but the centre of Florence was just too much. Also in retrospect I think I was starting the flag with the bug that struck me down as we travelled home.
However, we did have a couple of exceptional pizzas at La Bussola (a classic margarita with added buffalo mozzarella for me, and local Pecorino and boar salami for J - honestly they were the pizzas we'd been hoping for the night before) and I really enjoyed my dark chocolate and blood orange peel gelato (on top of a scoop of Fior di Latte again because I always think it is a mistake mixing two rich flavours in one cone) from Venchi, which you should actually also be able to track down in their shops in London, as well as across Italy.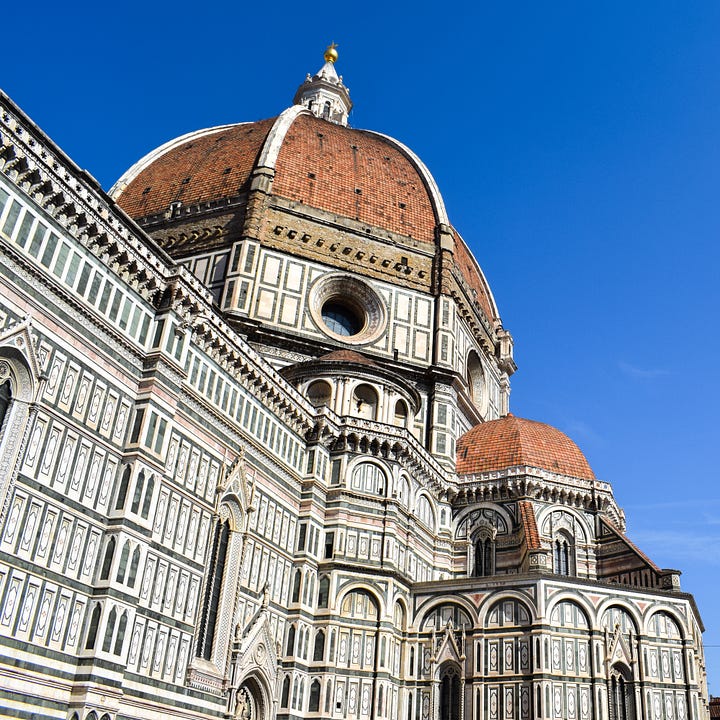 Tuscany? It was a blast. You were a destination chosen for us, but you more than lived up to expectations. Even though we have no idea where and when we'll be off to next, we'll be back!
1
Grom or Remeo by the way - I always buy my pistachio gelato because with the cost of pistachios it actually works out cheaper than homemade.